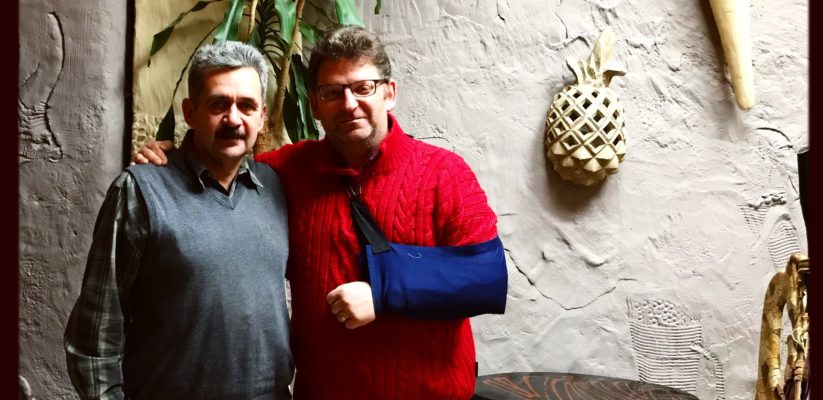 Advent Blessings in Kiev
Here is an account from Mark Meynells, a recent visitor to Sergiy Tymchenko's latest seminars at Realis in Kiev :
"Dear Sergiy
I am on my return home from an eventful but productive week in Ukraine. I've really enjoyed being back here (after my first visit a year ago to do the line-up work for this first Langham seminar this week).
---
The Week In Ukraine
This is a truly fascinating country historically and culturally, but it is also a country at war. The Russian annexation of Crimea and its subsequent salami-tactics in the east is taking its toll and a frequent topic of conversation. We have much to learn in the west from what is going on there. (More on that in a moment)


I was SO impressed by the calibre of delegates at the 3-day seminar. There was such a seriousness and hunger for what we are doing throughout our time, with some really excellent questions and discussions. In fact, when I described the weekly preachers' breakfast that we had throughout our time at All Souls (the two Sunday preachers would have to present a 10minute outline of their plans for discussion with the rest of the ministry team each Thursday morning), one pastor was amazed – they've been doing exactly the same thing in their town just outside Kyiv for the last ten years! For the 25 or so gathered, it seems that the Langham work is very timely and there is great optimism for what this can lead to in the years to come.
The greatest encouragement though has been the deepening friendship with Dr Sergiy Tymchenko – Langham Scholar and founding director of the Realis Institute (see pic). The more we've talked over the last few years, the more we've found that we see eye-to-eye on so many things. 
He also has some truly breathtaking stories of growing up as a pastor's son in the Soviet Union. We must pray for him to write his autobiography one day!"
Sergiy himself adds
"Please pray for REALIS. Among many needs we have, there is a need to finish building our study center with rooms for students and a library, new furniture for the counseling center and a new camera for making videos. Please pray for finding funds for scholarships for our 10 DMin students.
But, despite many economic, political, and social difficulties, caused by the war in the East, Ukraine continues to be a country where most people are still full of hope and enthusiasm. Christians in Ukraine continue to enjoy enormous freedoms while the 2017 year has been officially celebrated as the 500th anniversary of Reformation.
Slava Bogu!  (Praise God)
Many blessings and have a joyful Advent Season!