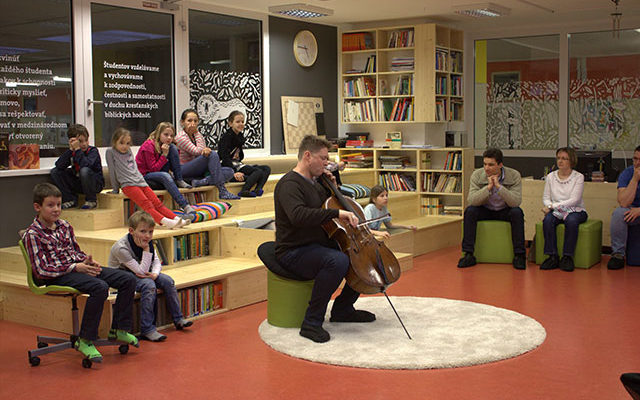 Baraka Blessing in Bratislava
The CS Lewis School in Bratislava had a very busy term from September to December, including the starting up of the new Residential Community where some students live together with mentors.
Martina has told us some of the news from last term :
We work hard. Bilgym grows too fast and we miss people prepared to work with younsters, their parents. I think none of us will foget this period. In November, we had an open day for future students; more than 300 young people came to school for our presentation. The following week, we had a special open day for Narnia with another 100 kids. We feel very blessed by God for all good things that happen. We pray for power and the right decissions. Here is some news:
1. In September, we offered 7 new scholarships. So, totally we have 16 kids from disadvantaged families. All students show great academic results. All of them have their personal tutor. 4 of them live at the dormitory.
2. We try to create a culture that emphasizes inclusion and cross-cultural understanding at school. We educate and mentor teachers in order to make BilGym a welcoming space of diversity,
a) we lead our students toward mentoring Roma kids in a learning center EDUbox in Lozorno. Our students travel to Lozorno twice a week to help kids from poor families. Some of the kids started to go to local church. BilGym students come to play – to tutor – to mentor – to encourage Roma kids and teenagers to be more ambitious in their dreams. Students really love this charity work, feel very enriched by coming here. EDUbox reaches out also to Roma parents.
b) we have launched a mentoring center directly at BilGym in order to create an incubator for potential scholars. At this moment our students and also teachers mentor 8 kids from disadvantaged families directly at school.
c) We are very proud of our Residential Community BARAKA (means "MERCY, or BLESSING"). Your gift given to us last year was spent for this project. We believe that BARAKA community will be a place to experience life within a community, to meet and develop relationship with God. At this moment 12 students live there together with David Laco and other mentors.
d) We built a chemistry lab. So students can learn chemistry through experiments. Up to now, we did not have it.

Thank you for your further financial support for the school; we propose to use it for BARAKA project – residential community. During summer re-construction of the space was coordinated. Community started the project only two months ago and they struggle. For instance they need fridge, musical instruments, bookcase, and other basic and practical things which your gift will help us to buy.