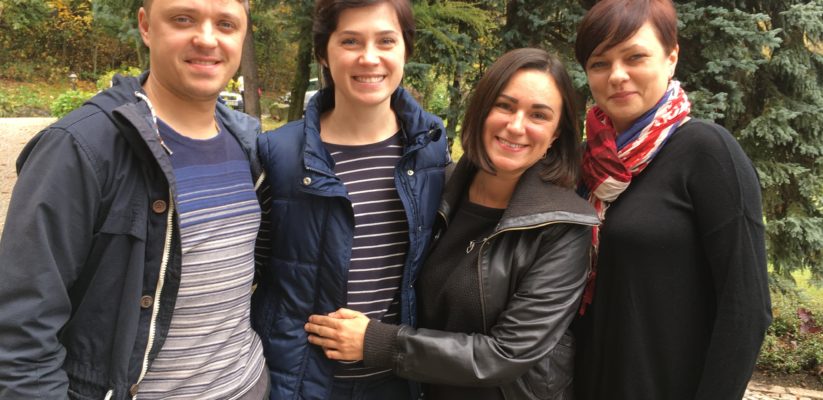 Being Bright in Ukraine
God has been blessing the many different classes which happen within the Education Centre in Lutsk – Early Years; English classes – now renamed "Be Bright"; and now the business school for teenagers. A lot of training for the teachers was undertaken in preparation for this new venture, and some intensive one-week courses happened over the Summer. Now some have signed up for the whole year JuniorMBA program. Business studies is not part of the school curriculum in Ukraine, so they are offering something much in demand. Slava has realised that she can share Christ through any topic of business – which is the ultimate aim in all the classes. An indication of how highly valued the Education Centre is, is the fact that many have been willing to pay in advance for the whole year's classes, which in turn gives greater financial stability to Territory 2:2 and enables them to have funds available for paying the advance fees for the next camp, for instance.
After two successful camps in the Summer, this year a Winter Camp is planned, January 1-6, which is Christmas in Ukraine. The advance for 100 teenagers has been paid, which will be recouped as teenagers sign up for it. There is an opportunity to sponsor teens who come from families who cannot afford it.
Lyena works in the Widows Project  – these are widows of men who died in the war in the East of the country, which is still ongoing. Most of them do not have official war-widow status, so receive no state support. T2:2 began working with them, and with their children, 3 years ago now, and the ministry has 3 goals –
To get to know the women better
To get to know their needs and help to meet them
To share Christ, who is the One who can fully solve their problems
They distribute weekly or monthly aid, and also help with specific or extra needs, for instance they took 5 women to a rehab centre to get medical and emotional support. Svieta is a qualified psychologist who can really help the women, and took 20 widows for a retreat in a spa centre; this cost $800. Another current need is to repair the roof of one widow at a cost of $500. All these ongoing costs have to be met from donations, either from people in Ukraine or people in the West.
Lyena sees the Lord at work in the hearts of these women, as many desire to help other widows, and two have become part of the team of volunteers.