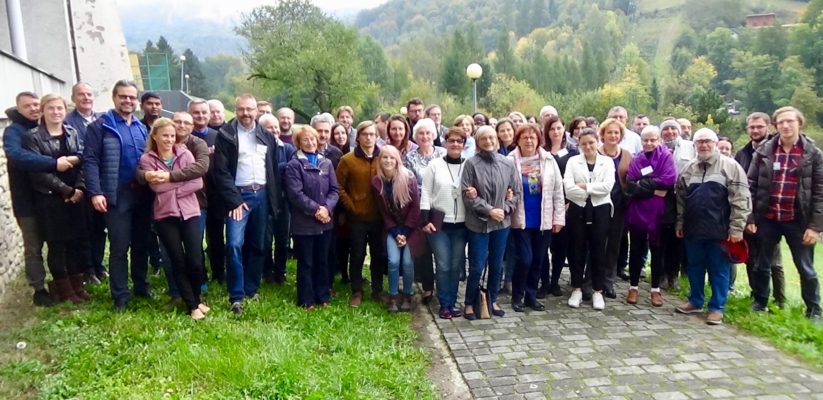 Conference Notes
It will soon be time for the next UK trip by CEP Partners, and we look forward to welcoming Malcolm, Sergiy, Iryna and Katya later in November. Meanwhile, for those who were unable to be at the CEP Conference last month, here is a brief summary of the blessings and challenges shared there by our Partners :
"Over the first weekend of October, 62 friends representing all of our 16 Partners gathered at the hotel Jawor in Ustron, which has stunning views over the South Poland hills, including a ski slope.
The conference program was arranged differently this year having been planned by a small committee. Consequently for the first time we sang, led by a worship group. Also, each Partner representative was able to explain what they are doing and what their needs are. They stayed put at 4 tables whilst the rest of us moved from table to table to talk with them. As usual, the ministry from Stephen Williams on the life of the Czech martyr Jan Hus, and the fellowship in the bar in the evenings were excellent.
The dates for next year's conference are 16 to 18 October 2020."   Paul.
Current and Future Aims of Partner Organisations :- 
"ARKA" Christian Educational Association, Poland
 Practical – Expanding the school and extending the programmes offered. Currently 100 children in the school and 50 being supported in home-schooling. Their kindergarten takes children from 6, but they would like to invite younger children. They desire to be able to better include children with disabilities. They aim to complete the programme of window replacement, already started with the help of CEPUK.                                  
 Spiritual – They are thankful for a new Board and a strengthening of the foundational Christian ethos of the school; they aim for each staff member to teach in accordance with the values and teachings of Jesus, and this year they aim to begin each day with prayers or assemblies for all staff and students. They desire to train all students to pursue God's ways and his plan for their future.
Private School PR Slaveikov, Bulgaria                                      
 Practical – Praise God for an increase in student numbers and for government funding; this year there are 126 students, 50/50 government funded and privately fee-paying – however a large proportion of families cannot afford the full fees. Praise God for help from CEPUK to buy a stair-climbing wheelchair to enable disabled students to attend classes; the school only occupies the first and the fourth floor of the building. Current needs are new computer monitors and a special floor for the PE room.    
 Spiritual – Although they are prohibited from directly teaching Christianity, the main aim is to provide spiritual transformation alongside an excellent education. Only about half the students are from Christian families. All the staff aim to present their Christian faith to the students and also to the parents.
Narnia and CS Lewis Schools, Slovakia                                              
 Practical – Desire to better help children with special needs. Aim to encourage "healthy lifestyle" within the school; concentrating on mealtimes at present. Desire to remain up-to-date, meaningful and relevant in the fast-moving culture today.    
 Spiritual – A big individual mentoring programme is in place, thanks to help from the "D3" organisation in Bratislava. They are working on their character-building programme to include Christian heritage but translated to be relevant to 21st century culture.
Territory 2:2, Ukraine                                                        
 Practical – Within the Education Centre the Business School has been going very well for its first year, but the staff still feel a lack of experience, and they would like to extend it to younger teens. The Summer camps went well this year but had very few native English speaking helpers, which is a big need for next year's camps and also for the planned Winter camp from 28 Dec-2 Jan. Two key staff members absent this year so staffing is stretched.      In the War Widows strand of the work finances are continually needed to enable more to be done to help, including counselling and events.    
 Spiritual – Using the holistic programmes in the Education Centre and the Widows work to present Christ.
Mission to the East, based in Poland                                
 Practical – Bartek and Zhanna in Ukraine have the blessing of several supporters in UK; they need wisdom in bringing up their children and developing their thriving youth ministry. Other missionaries are based within Poland, not full-time so balance is needed there, and through the cooperation with Interserve where good communication is required. The new Young Professionals Ministry within Poland needs wisdom for the leader Dariusz.  
 Spiritual – to encourage a spirit of mission within churches in Poland, both to encourage some to go, and to nurture long-term supporters.
SLOT, Poland                  
Practical and Spiritual – to mentor the massive group of workers, volunteers,  'friends of Slot' and attendees at the festival and at the ongoing mini-events, to manage the huge finances needed each year wisely, and to make the fruits of the festival durable and lifelong for each individual.
Youth for Christ, Poland    
Practical – The "Narnia" Club in the needy area of Wroclaw is attracting so many children that the premises are too small! There is a room adjacent to the existing rooms which they are hoping to get the use of, and then some finance will be needed to renovate and prepare this room to use.
Spiritual – Pray that the children coming to the club will not simply enjoy the activities but will be led towards Jesus. Pray that the other strands of YFC, among students and women, will have a direct spiritual impact on those taking part.
D3G, Romania
Practical – There is a great need for another trained co-worker/staff member. A great success this year was taking the disabled children away to the beach for an overnight stay; they would love to be able to do it again next Summer but it is expensive so donations would be needed.
Spiritual – The aim of the programme is personal development among the students taking part, and the desire is to keep and develop the relationships also with previous participants.
Integra, Slovakia
Practical – A big office operation in Slovakia to support the Children at Risk programme in Kenya and Ethiopia (1100 children), the  Fair Trade market access programme in E Africa for 30,000 low-income farmers and the humanitarian aid programme for people in and around Syria (about 20,000 people helped).
Spiritual – To encourage a spirit of generous giving among donors in Slovakia especially in the churches. To have an impact for Christ among the recipients of assistance.
Daybreak, Poland
Practical and spiritual – for health and perseverance for Adam and Mira as they continue to offer support to individuals and church leaders through their "Touchpoint House" retreat apartment and offer counselling and discipleship as needed or requested.
Parakletos, Czech Republic
Practical and spiritual – similarly, for health and perseverance for Pavel and Julia as they support Christian families and leaders but also many non-believers through seminars and conferences, seeking to respond to changes in culture.
REALIS, Ukraine
Practical – Wisdom and resources to develop the best programmes for theology training, counselling, research projects and many other opportunities, and to develop some self-funding capacity. There are no funds at present to complete the building of the new Realis Study Centre.
Spiritual – To meet the spiritual needs of the hundreds of people who have some connection with Realis.