Expert Entrepreneurs
Following a recent visit to Scotland, Ralph reflects :
At the Agathe Center for Entrepreneurship we are blessed to have access to a number of experts in many fields. They are people with gifts of intellect and emotional intelligence, who have applied themselves to particular fields, and have become deeply experienced and wise. They have become "experts."
And better yet, experts who are willing to share their time and what they know with next generation entrepreneurs – passing on their knowledge and their stories of experience to deepen the foundations upon which our clients build their enterprises. We haven't yet had a client who is planning to start a distillery, but we do know where we will look for experts if that was the case. In the meantime, we're thankful to the many experts in many other fields who have contributed greatly to what we offer. Here's to experts!
The Agathe Center for Entrepreneurship provides support to existing and aspiring entrepreneurs in developing and implementing their projects. Based in Bratislava, Slovakia, the Center provides tailored coaching and consulting services to local and international clients. It relies on a dedicated team, a widespread network of advisors, and a thriving ecosystem of impact enterprises to help entrepreneurs who want to "do good while doing good business".
In May we had the pleasure of hostingGail Flander Jones, a serial entrepreneur and executive coach. We held two workshops with her. One was focused on Career vs. Calling and equipping women in the workplace. The other was based on the Clifton StrengthsFinder Assessment Tool and how to focus on the strengths each of us have, instead of our weaknesses.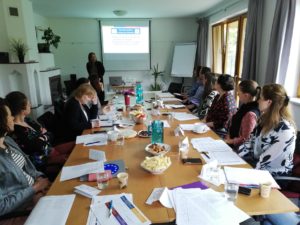 Ralph, Agathe's Executive Director, was recently invited to Scotland where over six days he had the opportunity to speak to several groups and conduct a number of one-to-one consultations. He is pictured here with his wife Bonnie right outside the Royal Bank of Scotland's Enterprise Development Center in Edinburgh. There, Ralph coached entrepreneurs eager to learn how to turn their businesses into impact enterprises.