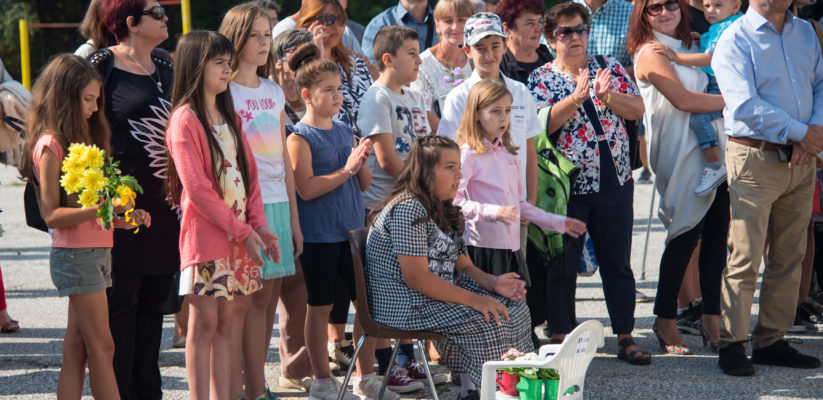 Good Progress at Bulgarian School
The PR Slaveikov School in Sofia, Bulgaria, has had many difficult years, but this past one has seen much progress, for which we thank the Lord :-
"This school year, 2018/19, offered our school great opportunities and we witnessed many blessings from the Lord.
As you know, in 2018 the Bulgarian Government decided to start subsidizing the private schools in Bulgaria.  Our school was one of the approved schools to receive Government funding. Thanks to those funds we were finally able to completely repay our longstanding debt to the Government, but not only this… 
For a very long period we couldn't afford to increase the salaries of our teachers as they deserved, but this year we were able to do that in a significant way. This helped them to feel more appreciated and to have even more motivation to do their work.
We were also able to hire new staff (teachers and administrative personnel) which led to offering better services to the kids. We hired a fulltime speech therapist and all the kids who had speech problems were able to work with her without paying additional fees. We also hired 3 English teachers which allowed us to provide for the kids much more English lessons. The result was higher interest among the kids for this subject and higher level of English knowledge. At the end of the year 10 of our students were approved and took exams for a certificate from Cambridge.  (We are still waiting for the results from the exam)
The biggest accomplishment for us was that we were able to afford hiring a fulltime manager of the school. Before that, most of the administrative work for the school, was done by the director, who was also teaching and was responsible to oversee all the other teachers. The new manager not only took big part of the director's work load but is also responsible to develop the school, apply new ideas and plan for its future. She worked hard so that from the next year our school will start applying new innovative program. Its purpose is to help the kids to understand why they need what they learn in school and how to apply their knowledge. It also provides more space for interactive exercises and practical studies. 
Another new idea that the manager is trying to realize is to start a High school from the next school year. Our school has the license for that but until now we didn't have the resources, not only financial. So for 2019/20 we have announced the opening of a new class (8th grade – this is the first grade in the High schools in Bulgaria). If it is God's will this will be the beginning of our High School.
Thanks to the funding from the Government we were also able to provide free education in our school for some kids whose parents could not afford to pay the fees but really appreciated what our school was offering as level of education and Christian moral standards. One such case was a 10 years old girl called Darina. Last summer her mother accidentally died; her parents had been divorced and her father had no job and could not take care of her. So Darina's aunt adopted her even though she already had 3 children of her own. The oldest son of Darina's aunt was 7 and it was time for him to start school in 1st grade but the aunt couldn't afford to pay the fees for the two children. So our school offered free education for Darina.
We hope and pray that through the next school year we will be able to develop our school even more and provide better services to our kids."
A Big Need  has arisen now in the school for some help for disabled students, as Nadya explains :
"I am writing you to share a big need for our school. You know that we have kids with dishabilities in our special program for educational integration. We have children with cerebral palsy and they can not walk. They can not climb the stairs themselves and need a technical aid to climb stairs to get to the classrooms. Their classrooms are on the 1st and 4th floors. We need financial support to buy this equipment. Do you think СЕP can help us to raise funds for this need?
Our school is located on 2 floors – 1st and 4th floors. We do not have enough rooms on the 1st floor and most rooms are on the 4th floor. This requires one child this year to go to the 4th floor if she wants to study with us. That's why we try to help the family and secure access to the 4th floor. We found a wheelchair for climbers. New costs about 3000 pounds. This is not a huge sum, but the family can not pay it. The school also does not have this resource at the moment. We hope that if we gather more people to give some money, we will be able to collect all the money. "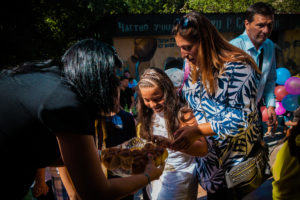 If you would like to contribute towards the cost of this, please Contact Us.
Many thanks, and we pray for more blessing from God on the new school year getting underway soon.