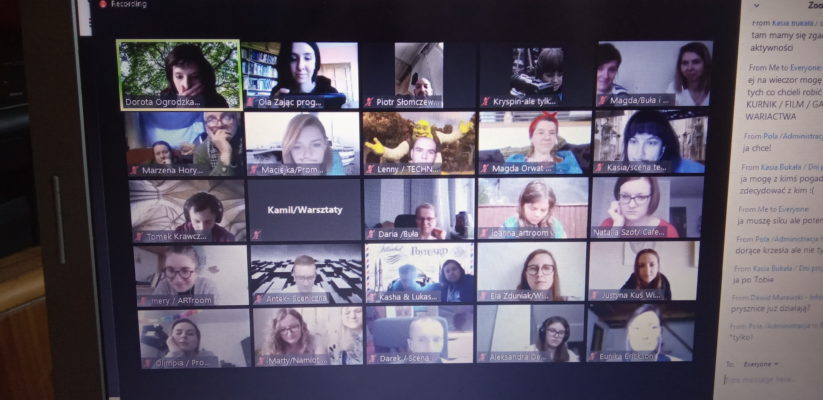 No Slot Festival this Summer
Sadly, the coronavirus pandemic has resulted in the cancellation of this year's Slot Festival – a decision reached with heavy hearts by the organisers there, as Ola explains in some detail :
We're conducting meetings of Slot Art Festival boards online and (as a real challenge:) we had a pre-planned meeting for 100 team leaders.
We spent a day and a half on the Zoom platform having lectures, discussions in small groups, brainstorming and even chating during coffee breaks 🙂 The atmosphere was really great, which  encouraged us even more to stay in touch with slot people despite the lack of the festival and do something together.
Since the quarantine started, the lives of most of us have radically changed – including our plans for the upcoming months. All of us, for whom Slot Art Festival is an important part of life, are wondering what to expect in July and we're still not sure.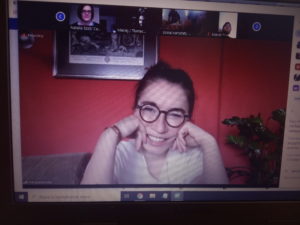 Since the end of March the festival board has considered possible scenarios: from moving the festival to 2021 through organizing a more intimate edition to turning it into an online event. Up to this point, all who were willing and able continued to work on it – keeping in mind, that we couldn't rule out the possibility that the festival might be able to take place normally.
But today we know what decisions have been made concerning large events from, for instance,  the president of Wrocław who has decided to cancel mass events in the city until the end of August. We also know that the Czech Republic and Germany have decided to cancel mass events. The chances that in June we will be granted permission for a mass event decrease week by week. For the last month, which was the 2nd round of advance ticket sales, we have completely withdrawn the push on sales, which is a great change for Slot which is financed mainly by that money.
That is why we've decided to face what many of us have already intuitively predicted, and announce that the Slot Art Festival that we know and have planned together until now can not take place this year. Therefore we will suspend our work on it, so we are able to free our time, energy and thoughts and turn them towards things that are possible.
What does it mean that there will be no Slot Art Festival as we know it this year?
First of all – this is a fresh decision and we're still working on some of the details. We want to invite the members of the Slot community to a discussion about some of them.
We do know that:
1. In July 2020 we can not invite several thousand people to Lubiąż for 500 events.
AND SO
2. We announce the date of the Slot Art Festival 2021 as 6–10 July 2021
3. We're putting ticket sales on hold and will refund money to those who have already bought tickets. They will be given an option to rebook them for the year 2021 or to donate the amount paid.
4. We will cancel the rooms booked in the houses of Lubiąż and our arrangements with contractors. We're also suspending the recruitment of volunteers and guest invitations for this year's festival. All team leaders are welcome to discuss how to stay in touch with people already engaged in this year's festival and involve them in other Slot activities.
For many artists and companies this is a very difficult time. Let's pray for them to come through it so that we can work together next year.
We're thankful to God that in recent years Slot as an Association has accumulated an endowment i.e. funds that will allow it to survive a year without a festival and begin working on the next.
Therefore we hope to do everything we had planned in 2021.
IN THE MEAN TIME…
We've often said that Slot is not only a festival. It was a dream, but also an observation – of what happens throughout the year independently from us. The Slot spheres are intertwined with your personal relationships. We all remember these slogans: "Year-round Slot", "I'm making Slot", "I'm making Slot for others and myself", "I'm making Slot wherever I am".
The motto of our festival is THE ART OF LIVING.
Because that living continues and it may need our creativity now more than ever, we want to continue to learn this art and we want to do it together.
The decision to cancel this year's Slot Art Festival is meant to help us free our time and energy to think and act on how to create Slot when we can't have SAF.
THEREFORE:
We would like to continue Slot activities in other scenarios like online, in small groups and locally. We know that it won't be attractive for all and it may be not possible for others in the current situation.
But with those who have the desire and ability, let's talk about:
– what Slot people can do for themselves and others
– how we can help the Lubiąż Foundation, which was strongly financially affected by the quarantine
– what we, as Slot, can do online
– what Slot meetings could look like this year when they're finally possible – both local and bigger ones that we're all waiting for
The time has come when the "Year-round Slot" slogan may become truly meaningful.