Popular Visitor to Narnia
Bartek promised us a few weeks ago that he would soon come back to us with 2 more reports on exciting goings-on in Youth for Christ Poland – and here they are!
First, Agata, who leads the drama workshops called "Without a mask" in the Narnia children's club :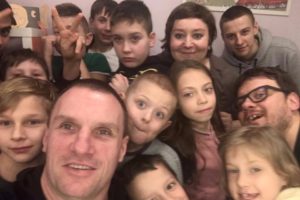 "At the end of February, a long-expected, special guest appeared in Narnia. Sebastain Zareba- an ex-recidivist, drug addict, gangster, homeless person- visited us with his wife Agnieszka. It was not his first visit to the club. He came last December as our friend to watch Nativity show by our Narnia children.
This time he returned to share his life story – life changed by Jesus Christ. His life was completely changed and restored when He came closer to God. Our kids listened, as if enchanted, to the stories of our guest's childhood spent in the street in the area of the "Bermuda Triangle", the ghetto-like neighbourhood where Narnia is located. For many of those kids it was like looking into the mirror and seeing their own lives. Sebastian mentioned that his parents got divorced, his grandma looked after him and that there was lots of alcohol in his home. He talked about terrible years spent in a young offenders' institute and then prison. About loneliness and despair.
But he quickly changed the topic and started telling us the most important thing- about meeting Jesus Christ and having his life totally changed by Him. He went through a therapy, was freed from his addictions, returned home, renovated it, paid off all the debts, found a job, got married and now he is helping others to get free from their homelessness and addictions. He is a manager of the Coffee House, the ministry of the Teen Challenge Foundation. He also runs a little hostel for those who are making their first steps in life free from alcohol or drugs.
Sebastian patiently answered all the questions that our children had- and his main message to them was " Do not waste your life on addictions." And " There is nothing impossible for God!" Also, " Fight for your dreams and do not give up- especially when it comes to following somebody's passion for sport." Some braver kids from our club shared their life stories with Sebastian. We spent some time playing the guitar and singing some songs together. Then, we had a tasty pizza that our club participants made themselves. At the end of the meeting, Sebastian received his pencil portrait drawn by Justynka – our oldest club member. It was a very emotional moment for him and his wife- they had tears in their eyes. Some photos were taken and a promise was made that we will see Sebastian again in Narnia. He is now busy planning some attractions for our children in the club. "
Next, Michal tells us about a fairly new and fast-growing student ministry :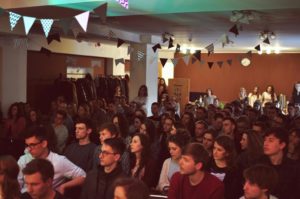 "Evacuation is an initiative that grew in our hearts about two years ago. It is an outreach programme aimed university students.
As any other project that is run once or twice a month, Evacuation requires lots of work and devotion from my team and me. Sometimes preparations are not going the way intended and we end up thinking it is going to fail, but then God gets into action and solves all the problems.
Evacuation is a place where anybody can find something attractive for themselves. Do you like to listen to good Christian music? Are you interested in topics connected with God? Are you a fan of good food? Or maybe you just need somebody to pray for you? I can guarantee that you can find all of these things at Evacuation.
Our main goal is to present the true God, not the one misrepresented by media as somebody sitting high on the throne and looking for our misfortune. We want to present the true God who is almighty, wonderful, loving us more than we can imagine. What we share at meetings are not just some stories about Jesus that we have heard from others but they are our own ones, the ones we experienced with Him ourselves. We believe that God has great plans for Wroclaw and students living in this city."