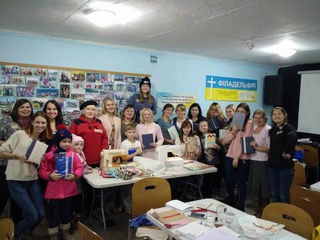 Sewing in Ukraine
Some news from Zhanna in Ukraine —
Praise God we now have one industrial overlocker (but it requires repair, replacement some parts) and also 2 Industrial Straight stitching sewing machines (one already in our workshop, the second one is waiting for us in Poland because it does not fit in our car, it also requires a little maintenance) We sewed a new collection of T-shirts.
We managed to do so far 3 meetings for women in Ternopil. It would be more if not for the winter, which hampered our ride there. At the meetings there are many unbelieving women and it gives us a great opportunity to work with them and telling them about Jesus. Please pray that we can find new outlets to sell our things and the wisdom of how to better organize meetings in Ternopil. Girls from there send warm greetings.
Zhanna xxx
Zhanna's husband Bartek will be here in the UK later this week. When he flies back to Poland, he will take a suitcase of donated fabric for Zhanna and the Ukrainian women to use, and will drive that and the other sewing machine back to Ukraine in a van. See our previous post about contributing to the cost of that!