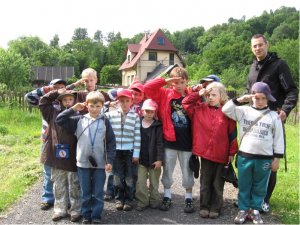 Summertime!
Here in England, the children are still plodding on at school, but in Eastern Europe, school holidays have begun, and there are many opportunities for children to go away for a week-long camp in the beautiful countryside, or even a "day-camp" where the kids stay at home but go each day for exciting activities with Christian input – a Holiday Bible Club.
Last week, Wiola was helping at a day camp in Wroclaw, with the theme "Treasure Island". In a couple of weeks, her colleagues from Youth for Christ, led by Marcela, will be running the annual camp in Krotoszyn, helped as always by a big team from Rugby.
Camp ARKA is now in its second week, with about 60 kids aged 9-15, along with the Polish staff and 18 native-English-speaking helpers. Last week was great with the 6-11 year-olds, and next week will be for teenagers.
Today is the start of "Around the World" camps in Ukraine, with the team led by Slava, and 10 native-English-speaking helpers.
And tomorrow is the start of the Slot festival in Poland, 5 days with thousands of young people experiencing many different kinds of music, arts workshops and seminars, with many Christian volunteers engaging people in the big questions of life and encouraging them to think about God.